Our Industrial solutions can be utilized by a range of industries in verticals such as automotive parts manufacturers, machine builders, manufacturing OEMs, tool builders, industrial construction, process industries, and many more industries seeking industrial-digital-transformation, and Industry 4.0 solutions.  Some of the key use cases delivered include the following –
Manufacturing as a sector accounts for around 16% of the world GDP and is an extremely important sector for the growth and development of human societies. It includes everything from the manufacturing of rubber, chemicals, motor vehicles, automotive parts, paper and pulp, wood, computer products, textiles, toys, aircraft, etc, and is a very diverse industry. 
All of these industries employ industrial automation through the use of Digital sensors, CNCs, and multiple equipment controlled through PLCs and can immensly benifit for various methods to optimize the quality, performance, and efficiency and at the same time improve human safety and quality of life. A lot of these objectives are data-driven and key problems can be addressed with the proper utilization of data analytics and machine learning.
Real-time remote SCADA and PLC monitoring & control
SCADA systems provide on-premise monitoring of various industrial automation digital and analog signals and aid operations. However, operations have become more and more remote and decentralized, either due to the scaling of industries or a shortage of staff. Remote monitoring and control of automation systems have become imperative in certain setups and also aid better control and operations.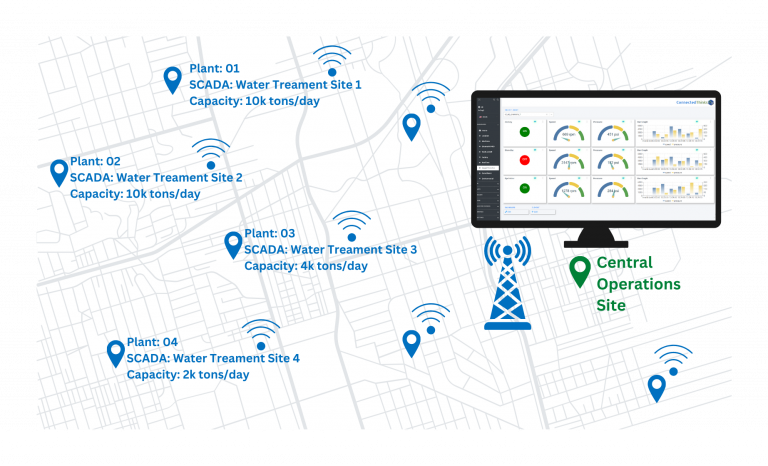 For example, better safety could be ensured if the city council or fire department gets regular data about all the sprinkler systems and water pressure in the entire city or neighborhood. Similarly, water filtration systems & sanitation operations or remote installations would benefit if the signals were monitored centrally and remotely and made accessible to all operation staff. 
What's more, is that these systems could be set up to automatically alert and notify officials when any signal crosses a threshold.
Machine Builders and OEMs
Machine builders and manufacturing OEMs, such as builders of paint-spray guns, large format industrial printers, large multi-axis CNC machining centers, heavy construction equipment, and vehicle manufacturers, etc. often need to monitor the vital parameters of their equipment after it is out of the factory and shipped to the customer. This is extremely important so that the OEMs can provide timely support and carry out preventive maintenance activities. This helps the longevity of the equipment, leads to lesser downtime, significantly reduces the after-sales support activities, and enables better customer satisfaction.
ConnectedThinks provides software for Industrial grade gateways with telecom data-connectivity such as 4G & 5G. This is bundled with the OEM equipment and connects to the ConnectedThinks cloud data platform for remote monitoring and diagnostics.
Warehouse & Intralogistics Systems: AMR & AGV Orchestration
AGV and AMR Market is expected to reach $13.2 Billion by 2026 with a growth rate of around ~35%. This is driven by multiple factors such as – shortage in labor, demand for quick deliveries and an e-commerce boom.  Multiple warehouses and Factory floors are employing AMRs to improve their efficiency and be able to scale their operations. 
While the sensor technologies and processing capabilities of AMRs and AGVs have significantly improved, deploying these in warehouses is still a challenge resulting from partially automated processes. i.e AMRs and AGVs need to work alongside human workers and use the same systems and processes such as lift systems and fork-lifts leading to integration challenges.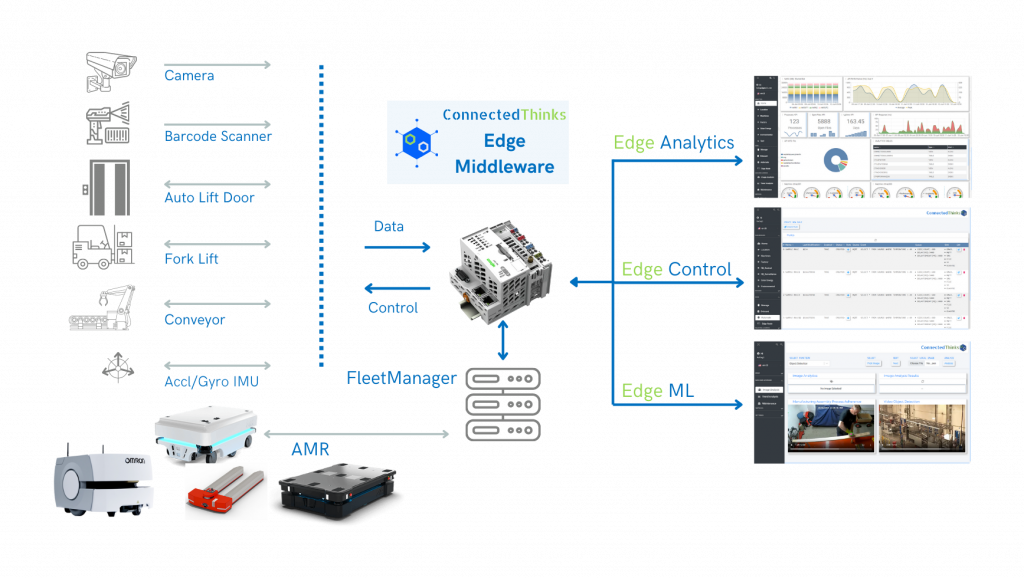 ConnectedThinks solution help to solve these challenges by providing a.) integration middleware to ease working with lifts and scanners b.) Vision systems which work as a surveillance system assisting AMR orchestration c.) analytics to optimize and measure the operational efficiency and RoI.
Industrial Construction – such as construction of chemical plants, hydrogen plants, industrial boilers, etc involve project spanning anywhere from half year to 2 years. Most of these constructions are in typically in remote  areas – away from major towns and cities. Here, monitoring progress of construction, process adherence, monitoring usage of safety/PPE kits, utilization of cranes and other construction vehicles, utilization and tracking of construction equipment such as drills and wielding machines, tracking construction material and scrap-area usage, large-bin occupancy, movement of trucks etc  is important. 

ConnectedThinks offer vision based automated surveillance system and asset tracking solutions to address these needs. 
This tracks data from IP cameras and uses on-site Industrial GPU Edge compute to identify various  objects in image like people, PPE kits, cranes, vehicles, number-plates, text, person-ID. Then the cloud data-platform enables running rules and business-logic to identify events and raise alarms
Offer solution to connect with various positioning devices based on Bluetooth, LoRa, GPS or cellular to capture the location data. The data-platform provide the means to build suitable rules and business-logic to identify events, generate reports and raise alarms and notifications to operation staff. It also provide various usage and operational analytics and insights to optimize operations.
Renewable Energy: Solar and Wind
Large scale (few hundred MegaWatts) solar and wind power generation installations are typically in remote areas and need ongoing maintenance activities to optimize the power generation. Solar panels need regular cleaning and solar-inverters need maintenance. Wind turbines have a lot of moving parts – gears, breaks and motors, all of which need monitoring and maintenance.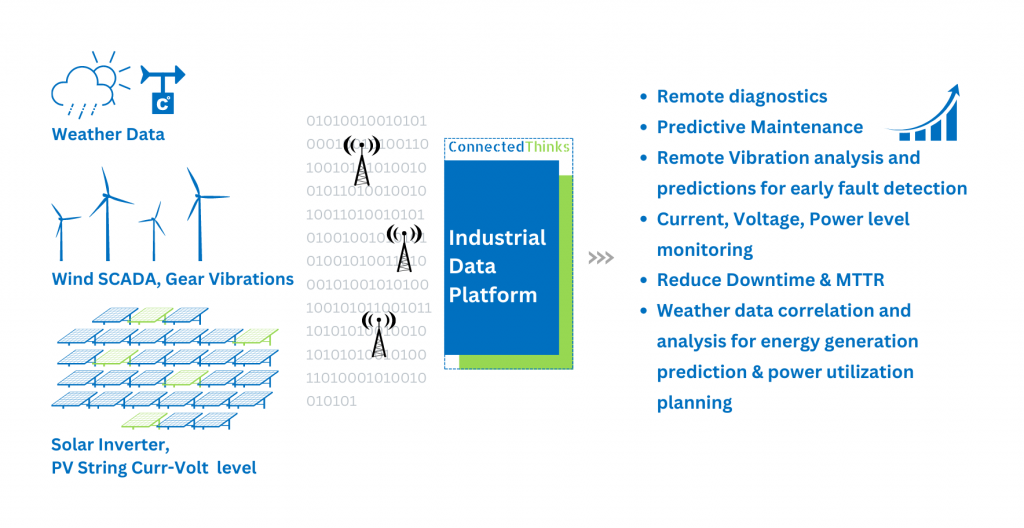 ConnectedThinks offers solutions to address the challenges in the current renewable energy market  through either help companies collect and analyze large scale data on our platform or to help with data-analysis of existing data collected by renewable energy companies.
Data analytics and Machine Learning Services
If your organization already collects large amount of data from various IoT sensors, with Tera Bytes and Peta Bytes of data getting accumulated, ConnectedThinks offers services to convert this data into usable insights.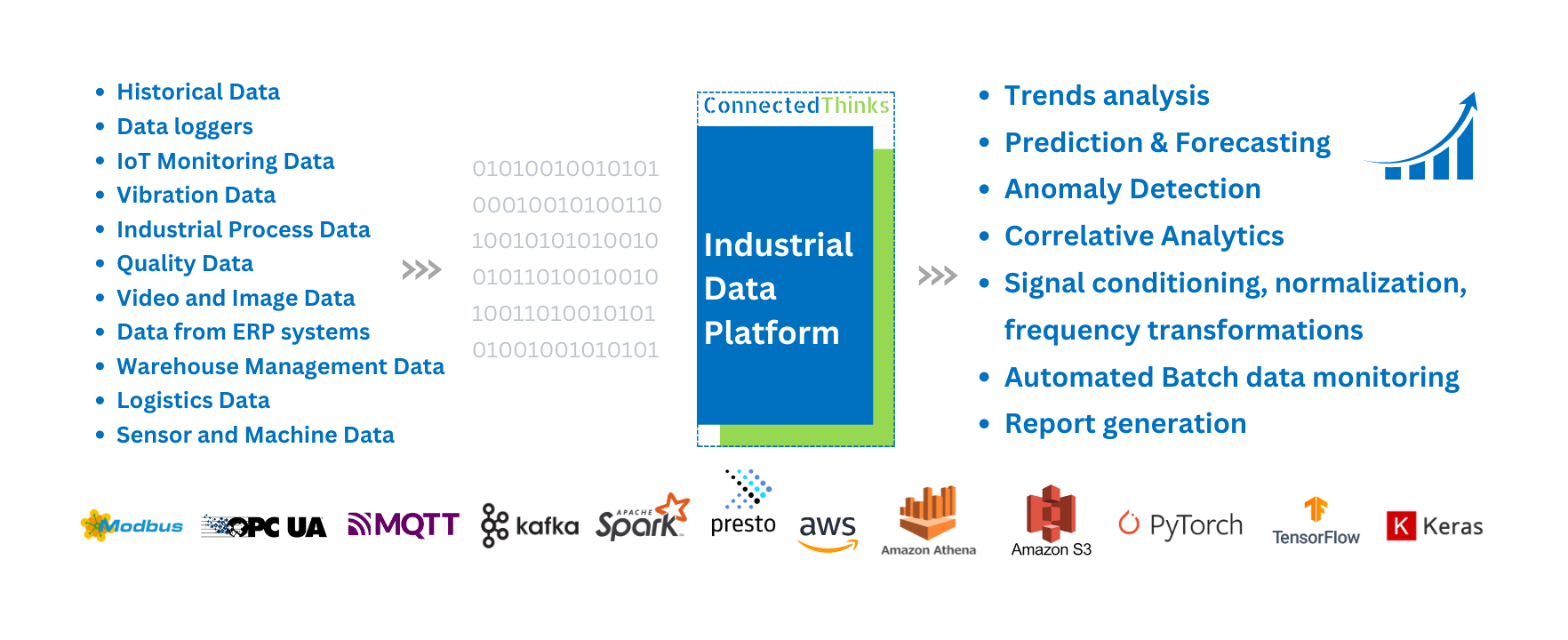 Given our expertise in data-platform, drivers and transformation – we are well placed to analyze your data and build custom transformations to extract valuable insights. These insights could be made available through your existing data-platform and Business Intelligence Visualization systems.